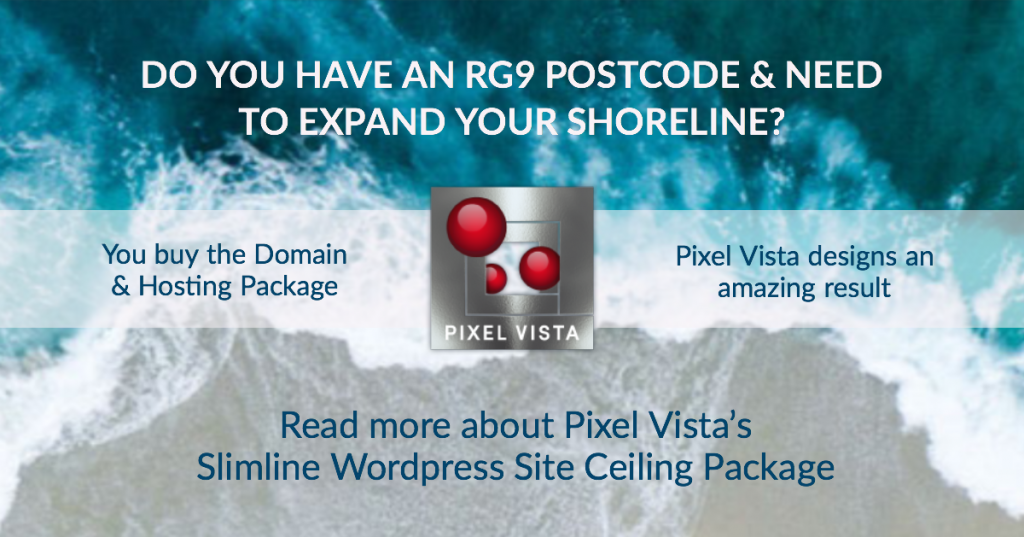 Pixel Vista offers this Slimline WordPress Site Package only to local businesses with postcodes in RG9 catchment.
There is a ceiling of £650 after you, the client, have purchased the necessary items in paragraph 1 (approximately £90 – £120 depending on domain extension) or have current hosting that WordPress can be installed on with a current domain and SSL certificate available.
The reason for you purchasing the above is because you are then in charge of your webspace.  If you are unhappy with Pixel Vista services you can easily go elsewhere, no nasty surprises as often happens when you leave this integral part of your business at one company's hands.
It may be that you would just like everything installed ready to DIY your own site content with some lessons to replace the hours designated to Pixel Vista completing it for you?  Please get in touch for free advice and consultation via the Facebook Page, via our contact page or by telephone with any queries on this offer or, other WordPress related issues.
 i.e.1. Items for you, the Client, to purchase/provide independently
Domain name (the future address of your site)
WordPress Dedicated Hosting package (the space where your site files reside)
SSL Certificate (required to show you are a legitimately owned site for your visitors)
Logo in industry standard format and quality
Text content for each page or post
Content Images
With Domain Name, Hosting and SSL Certificate it is usual to shop around for the best packages which often cover all three elements i.e. domain, hosting and SSL certificate.  Some WordPress dedicated hosting providers Pixel Vista are familiar with:
2. Content provision by the Client
To stay on target for the ceiling package you must provide all the content in text format either by Word document, text file or email.  Images can be provided but if you have your own they should be sent in high resolution or over 1200 pixels wide for use on banners and to be successfully scaled using photoshop.
Ideally you will already have a logo but if not one can be designed for you at little extra cost.
3. Free theme and feature plugins installed
(to complete the design with functionality at low cost)
OceanWP theme template (the template for the general layout and design)
Elementor page builder (easy to use content editor that provides responsive design)
Complianz Cookie Notice (required by law)
Wordfence security plugin (required to protect your site from hack attacks)
WPForms plugin (GDPR compliant contact forms for your site)
Backup to Dropbox (you will need a free Dropbox account)
Mailpoet 3 for subscriptions to news
4. Site features
WordPress core, OceanWP and Elementor free versions, plus required plugins as above
Designed with SEO best practices (does not include submission to search engines or Analytics)
Simple Header with your logo, dynamic telephone number and other contact links
Contact page
Social links
Up to 7 further pages or posts of your provided content and images
One feature image per page for social sharing purposes
News/blog ready with subscriber ability
Cookie notice (GDPR)
Basic Privacy Policy (GDPR)
Footer with applicable links and features
Wordfence free version security (protects again hack attacks)
Backup to Dropbox
5. Fuss free design and planning
Integration of logo branding colours and fonts (if you have no logo available this can be designed at minimal extra cost)
Identify desired fonts and brand colours
Initial design concept is viewable and changes made in real time
Sourcing of images from Adobe Spark if required
Where content not supplied by the client advice on or, provide content if possible
1-2 hours of over the telephone, Skype or remote screen training on completion
Working with WordPress and implementing your requirements is subject to many variables and this is kept in mind during the time it takes to design your site the way you want it to be.  The ceiling for the package is set however, Pixel Vista reserves the right to renegotiate any extra costs and will not invoice without agreement.
This package is only available until August 29th 2019.
It does not include more complex features such as eCommerce, Events and Ticketing, submission to search engines, Google Analytics setup or other features outside of the plugins stated within the offer details.